This is a book put together from a presentation
for Town and Gown on January 12, 2016
It is only fitting that our speaker, Ann Dorr, present today as she is a four generation USC family dating back to 1887 when her grandmother attended USC, in 1961 she graduated from USC, her husband and his father graduated from USC, her son graduated USC,
She is currently serving on the USC Band Board and the Half Century Trojan Board. She is also a member of Figueroa Corridor Board of Los Angeles.
Ann and her husband Ed now live in the Desert, but keep her residence at the Pink Lady, an 1880 Victorian home in North University Park, near Adams and Hoover. This was their primary residence since 1989.
She and her husband have restored 26 houses and own the company NUPP, North University Park Properties – student rental business since 1989 to present day.
​
Los Angeles had a slow beginning.
In 1870, the population of Los Angeles was 5,728—a town not even chartered. The center of the city was Olvera Street. Compared to San Francisco, it was considered a frontier town-- a pueblo of little significance. San Francisco was considered the city of the
West the center for banking, society, the thriving business community, was drawing a population ready to invest.
It was into this environment in Los Angeles in 1870, a town, not a city with a charter, ( that was not to come until 1881) my Great - Great grandfather Luther Titus arrived in Los Angeles, bringing his son-in-law my Great Grandfather Jacob Newton and his daughter my Great Grandmother Mary Titus Newton. Luther Titus, Jacob Newton and Mary Newton. The three names I will refer to throughout the presentation.
I selected this slide from my personal collection, as it shows, Los Angeles -- small clusters of the homes, churches and small stores. The arrow points to "my father's houses" and "Fort Street."
The notes you see are written by my Great Grandmother in 1884,
Fort Street would be renamed Broadway.
The four houses are located on a block of land Luther Titus purchased in 1871 for $3500 gold Later in 1886 he sold it for $58,000 to the City, to become the location of the original city hall.
​
Agricultural Park, If you look closely at the map you will see, Agricultural Park and USC.
In 1870, the early who's who of Los Angeles, 100, gathered and
starting privately, secured the land, then later sold portions to stockholders. My Great Great Grandfather, Luther Titus was one of
these men, known for breeding of race horses and now owner of a
large ranch in what is now San Marino.
Agricultural Park thrived becoming the social gathering place
Jacob Newton served on the board of directors for 12 years. Agricultural Park thrived becoming the social gathering place. It would
later boast the longest bar in Los Angeles and was surrounded by houses of prostitution.
What happened to Agricultural Park? Agricultural Park fell on bad times. By 1895 a campaign by City Council mobilized and supported by USC went after the Park. Developers moved in and started the plans to develop the land.
In 1895, my grandmother now married to a lawyer, Frank Cattern
and my Great Grandfather stormed Sacramento to fight for the
land against the developers. It was in Jacob Newton's obituary of
the accomplishments he was most proud of.
The land remains public – state and county, serving as Exposition Park and the Colliseum.
​
USC first picture
By 1880, the population had swelled to 11,183. The University of Southern California started in 1880. In 1887 my grandmother and her sister, Clara Newton and her sister, May Newton attended The Preparatory School at USC. It was intended to prepare the students to be admitted to the Freshman Class, without examination, in the College of Liberal Arts. Rev. M.M. Bovard was President. in 1889, Clara and May went on to attend the University where they studied in the College of Liberal Arts with 46 other students, 21 of these were freshmen like Clara.
Clara and May joined Kappa Alpha Theta sorority.​
The neighborhood of West Adams.
In the 1889 yearbook for USC, Adams Blvd is a selling point for the neighborhood.
Adams boulevard was a grand street – 90 feet wide with landscaped parkway in the center,shaded by rows of huge pepper and eucalyptus trees. 1880's-1890's-into the 1900's millionaire families built a row of opulent homes. The names were those of the great influential families of the city: Doheny –oil, Kerckhoff (real estate), Clark (railroads).
House corner of Figueroa and Adams 9. This is the home of my great grandparents Jacob and Mary Newton in 1887-1891. They lived here during the period Clara and May went to USC. Presently it is the location of Automobile Club of Southern California.​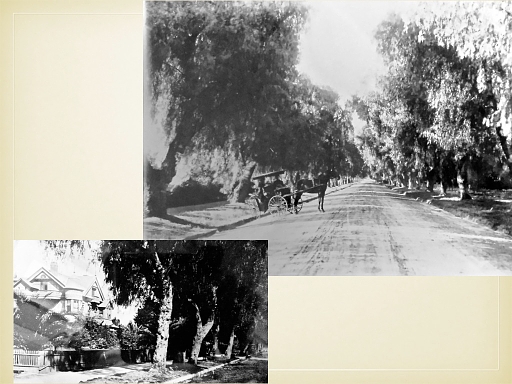 The Mansions of West Adams Millionaires Row or Bankers Row. I have picked three of the many mansions lining Adams and Figueroa.
The only mansion that still survives is the Stimson house on Figueroa. There are no mansions left on Figueroa except for this one. In the photo you will see the Zanja gutter water system still visible from the street.
In 1940, it became a fraternity house for PI K A. The noise proved too much, so, it was purchased by Mrs. Doheny, she moved out the fraternity and moved in the nuns. Upon her death it became part of the holdings donated to the Catholic Church. It remains so to this day.
The Kerckhoff House at 734 West Adams. William Kerckhoff made his fortune through many business ventures and the regional development of hydroelectric power. The home was donated to USC and is now the Annenberg School of Communication.
​
Doheny house
A presentation of this neighborhood would not be complete without presenting The Doheny mansion as it is known today. A little known fact is it was originally built, completed in 1900, by Sara Posey, wife of Oliver Posey, the richest woman in Los Angeles, who owned gold mines in Colorado. It was sold to the Dohenys complete with furnishings including her paintings, for she was also an artist.
The Dohenys later purchased the homes of their neighbors, rented them for a small sum, and controlled Chester Place—now Mt St Marys. The homes are still refurbished and very much intact. The homes were rented to their friends. Rufus Von Kleinschmid one time president of USC lived in one of these houses.
​
Fremont house a house with a great story
On the corner of 28th and Hoover was the home of Jessie Fremont, the widow of John Fremont. No longer located here, it was moved to of all places out near Pierce College.
John Fremont well known as the surveyor of the West, a Lieutenant General in the Union forces in the Civil War, a one time the Governor of California and the first candidate for the Republican Party for President of the United States. So, you can impress your friends as you now know who was the 1st Republican candidate.
​Unfortunately upon John Fremont's death, she and her daughter were left penniless.
Carolyn Severance raised money through her organization of suffrogettes to build her this home.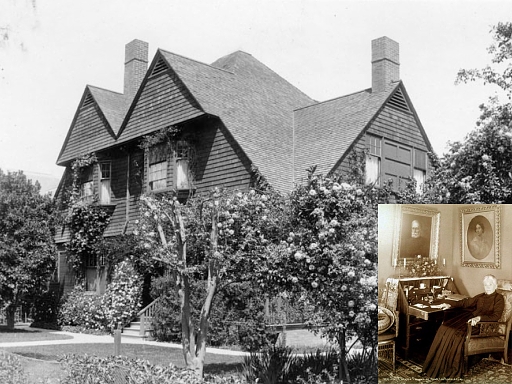 Town and Gown USC was growing and expanding the campus.
In 1925 USC built Town and Gown. The note on the bottom of the photograph describes it as the earliest picture of Town and Gown.
​
Charles Dorr attended college during the 20's.
Los Angeles grew during the 20s and 30s. The population now numbered 2.3 million. USC was expanding and the student body was growing. Land was purchased in the neighborhood as they took over blocks to the west, the north and the east. The community resisted but the force was too great. Already they had a vision of what was to come.
Times were rough for some. Ed's father began college during this period. He was forced to take off for two years and work for his tuition. He was supporting his mother as well. He graduated in 1928 and began to practice dentistry in the Transamerica Building 649 South Olive. He remained active in the alumni organizations and worked until he was 72 in his dental practice in Beverly Hills. His son, my husband would practice dentistry with him in his final years.
​
The stock market crash had a ripple affect throughout the country, but Los Angeles was not as heavily invested in the sharp rise of the stock market and the rapid drop. The city recovered from the stock market crash by a land boom and resurgence of oil production and refining, and yes, the movie industry grew making Los Angeles the world's leading filmmaking city.​
Collage of houses in disrepair Decline of Los Angeles
The neighborhood went into a decline. . It's hard to say when this began, some time in the early 30's, through the 40's and into the 50's., even the 60's and 70's and even the 80's and 90's. Over 70 years. The pictures you see here are still in the neighborhood left over from this period.
The families that had once thought of this part of the city as fashionable, now were moving to Hancock Park, the Valley, Hollywood, Santa Monica, the Westside, Beverly Hills, San Marino, and later Orange County looking for newer homes, shopping centers, upscale living.
People lost interest in this part of the city -- business buildings downtown stood empty and the heart of L.A. stood ignored .
The houses were being carved up into apartments, or rooming houses, or shared family homes. Houses were being torn down to make way for apartment houses or boarded up and left to neglect. . New communities and housing developments encircled L.A
​
In the late 50's early 60's, USC alumni questioned why USC would remain in such a neighborhood. There was a movement to get USC to move to the more upscale Westside. This topic would come up for years, but no action was ever taken.
Ed Dorr my husband and I, attended from 1957-1962.
It was an innocent time. We were having a great time. We thought of ourselves as the Trojan Family, but I don't remember using those words. We thought of ourselves as special. WE were looked on as the University of Spoiled Children by others, but we didn't care. Tuition was $17. A unit and by the time I graduated $27. A unit. Clubs, events, parties, football games, and of course classes.
We stayed close to the campus. Our life was the Row. The neighborhood was considered dangerous, though I don't remember it being dangerous, just poor.
If we attended parties they were on the Westside or other neighborhoods. Most students didn't stay around on the weekends. Close ties, friendships remain a lifetime and so did our attachment to USC. I graduated in education the only major that was thought of for women besides hygiene, Ed graduated in dentistry.
Ed and I married in 1984 blending our two families.
I retired as a principal from LAUSD, with a doctorate in Institutional Management, which allowed me to teach at Loyolla Marymount, Pepperdine and National University. Ed retired last year after 50 years of practicing dentistry.
​
Durfee House HISTORY OF THE DURFEE HOUSE
•The Durfee House – the original The Pink Lady A historic landmark.
In 1989 we were living in Pacific Palisades with his son and mine. We sold a small apartment house and were looking for a 10-31 exchange. My husband, Ed. suggested we go by USC and look for a house to use as student rentals. I said absolutely not, the neighborhood was too dangerous and totally undesirable. He talked me into seeing this Victorian and so it went.
I walked into the front foyer and knew this was my house…. And so it went. The house was red-lined meaning we couldn't get financing. There was one stipulation, if we lived there. The realtor rented our house in the Palisadse. We had two weeks to move and so we moved. My son Barrett Carrere moved with us, but Ed's son thought we were nuts. His comment was "Even the bussed in kids live in a better neighborhood". He finished off his high school at Palisades High. Our friends couldn't believe we had lost our minds to live in such a neighborhood. It would take a few years for then to feel safe parking their car nearby.
It was originally built as a farm house in 1880 and owned by Richmond Durfee. It was moved to its present location in 1889. Some time along the way, it became a boarding house and later was divided into four apartments. In the 1970's, the house was purchased and restored to be a showplace—bed and breakfast, painting it pink- hence 'The Pink Lady'. No one lived in it since 1972.
There was no heat, a destroyed water heater, and an electrical system that outdated is an understatement. Living here during this period was quite an experience. We settled in, everyone came to see the wonderful house we lived in. We found a community of people like ourselves, dedicated to preservation, a network of support.
It's hard to believe looking at it now, but I received a letter from the USC saying for alums, if you have a son or daughter that could qualify, the University has room…. And a phone number to call for admissions. My son Barrett was attending Santa Monica College with the intent of going to UCLA when we were going to make the move to the Pink Lady. We called, got him an interview, and so it went he attended USC in 1990 and graduated in 1993 in accounting.
​
Front Page of Los Angeles Times
May-1992
The riots of 1992 brought the conflict directly into our neighborhood. Two neighboring shopping centers literally two blocks from our home were burned and looted on the corners of Adams and Hoover, and 23rd and Hoover. The apartments across the street were sending out vans to recover looted items such as shoes, refrigerators and anything else they could walk away with. The night was filled fire and explosions. The pop, pop pop sound of gun shots were heard every night. The police had lost control of the city…
It was scary.
We tried to sell the Pink Lady in 1994. We finally rented it and moved back to Pacific Palisades thinking we never would return..
In 1996 the renter lost his business and owed us money, $12,000. Eviction would take too long, so we gave him one month to vacate and packed up our boxes and moved back to the Pink Lady.
​
Event business
This time it was different. We decided it was much more fun to live here and by this time the police were back in control. Our conservation friends were here and we were in a different stage in our life. "Let's run an event business and show off the house". We redecorated and spruced it up. We redid the kitchen, added airconditioning, and made it more livable.
We sold our house in the Palisades and committed to living in the Pink Lady…
​
1999 map of area Nupproperties
1999 Ed and I were both 62. We realized we could not afford to retire.
The business of Student rentals started with one house, down the street. It became for sell in a foreclosure for $145,000. In May 1999. The owner had died, his son was living in the shack in the back. The house was in poor condition. We overbid the price at $148,000 and got the house.
My older son, Robert Carrere, a graduate of Otis art school became the contractor. We got a bank loan to fix up the house. A year later, the house was restored, USC students were happily renting, we had an income and it was now worth $350,000. Plus the bank gave us $100,000 credit line.
The following year, 2000, we sold an apartment house in Hollywood, and purchased four more. We began to buy the houses that had been kept boarded up and not lived in for 30 years, totally deteriorated in the inside.
​
In 2001 we bought four more.
While everyone else was buying stock, we were buying houses. I'd like to think we were strategist, but I think we were more about being adventurous and in the process, we were changing a neighborhood. In 2002 we refurbished 9 Victorian houses, then in 2003 we bought five—one had a restaurant on Hoover, we renamed it, and opened the 29th Street Café. I ran the restaurant for five years.
In an eight-year period we refurbished 26 houses in this neighborhood selling some along the way. We changed a neighborhood.
Fifteen years later in 2013, we sold six of the 18 we held onto, and now we have kept 12, renting them to USC students under the name of North University Park Properties, NUPP, LLC.
We have a successful management company called Mosaic who is buying up houses using the same formula as ours.
We fulfilled a need for students by providing group living experience. The students create their own group—we're renting presently to the swim team, baseball team, girls volleyball team, computer majors, music majors…. Crossing all ethnic groups-students want to live with their friends.
At the same time we are making efforts by preserving these Victorian houses to keep the value of history a part of their lives. We have tried to keep whatever importance the house had intact, improving the house at the same time.
​
Ed and me on the front porch.​
Collage of pictures : Luther Titus, Jacob Newton and Mary Newton, Mary Newton and Baby Clara
Chalmers 1905, auto with Frank Cattern, Newton Cattern, Mary Newton, Clara Cattern.​ May Cattern
Final conclusion: When I was preparing for this presentation, it came to me there were people with vision, adventurers, beginning with starting a university with a grasp of a community needed that their own place of higher learning, and so USC began.
There were those like my great grandmother who saw a college education could be had for her daughters, in a university that already was integrating students.
From the beginning the ties of a neighborhood and the university when the homes were used to house students, or neighboring families sent their children to this university.
There was my great-great grandfather and others like him, who saw the potential of Los Angeles, who saw a ground for fairs, racetracks, and other events to bring people together to add prominence to Los Angeles.
There are those who develop neighborhoods like the Dohenys. Who made a neighborhood prominent and build a sense of community and neighborhood.
There are my great grandfather Jacob Newton and my grandfather Frank Cattern who joined with others in 1899 contested the private development of Agricultural Park and made sure it was preserved for public use, to become the County and State land we know as Exposition Park.
There are those who saved historic houses when the neighborhood was neglected and declining.
There are those volunteers in – neighborhood group to oversee that changes in the housing following stringent historic preservation, HPOZ or City Planning, and WAHA (West Adams Historic Association) with others who work tirelessly to maintain the history and preserve out past.
There is Steven Samples who came in 1991 to a university that needed a dream, a vision, and one who would change the university into what it has become.
There is Max Nacias a president of the University who has carried on the dreams to even greater heights to what USC's greatness..
From such humble beginnings USC has become one of the top universities in the U.S. Students from all over the world compete for a University of high ranking in so many areas it would take another presentation just to cover the accomplishments.
Most of these people I talk about in this presentation will never get awards or recognition in history books, or streets and buildings named for them. They are not famous –they created change. They had a vision.
Those of us who know the past see where we have come from, from the good times and the hard times to what it is becoming in the future.
I have a dream. In all the time I have spoken before groups, many of you have come to me with stories of your own. It is amazing to look out at this audience of Los Angeles history. I have wanted to find a way to preserve this core.
For nine years the concept of a Family Initiative, an archival service, a view our university and history that should be preserved and documented,
I don't know if you know, The First Century Families of Los Angeles has been archiving family histories with USC libraries. Years of family history from The Sepulvedas, the Mulhollands, The Dohenys, and more. Individuals have donated collections to USC, not knowing what to do as family members die. Stories like mine or yours need a place so that history is not lost. Who else is going to capture these times?
We are a Trojan Family we are connected in a deep way with the university. I have invited Claude Zachary and Kathryn Quilan, Dean of Library…… because I think with enough support this could become a reality. I think organizations like Half Century Trojans, Town and Gown, and others would share this dream. There is a space designated for this purpose but lacks financial support.
I have left cards on the back table with the pink lady for you to contact me about anything. Whether you have a question, or maybe are interested. You can make a difference, together we can begin a legacy of our own.
​
North University Park and USC A Historic Perspective
​